Exterior Skylight Shading

More:
Thanks to their unique design, they can cover surfaces of particular shapes (triangle, polygon, etc.).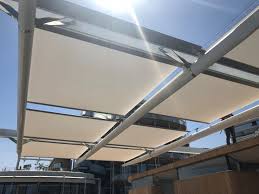 Optima atrium shading systems are the perfect application for vertical, horizontal and sloping surfaces.
They are available with aluminium cassette and with aluminium side guides with windproof ZIP system or disa.

The fabric can be perforated (screen) or blackout depending on the requirements of each project.